Machinery\ Auto Paddy Separator
---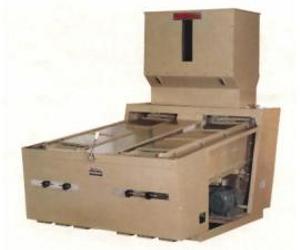 Mod: ASL-20 ASL-24
SPECIAL FEATURES
Designed and built sturdily in all-metal construction for longer period of use, guarantees a highly stable and smooth iperation at all times.
Completely free from the troublesome adjustment ascribable to the differences in variety, shape, size and moisture of rice grains, therefore, no operational skill or professional knowledge is absolutely required.
Capable of constant separation regardless of difference or change in grain conditions and therefore, most suitable for constant operation, and the pre-classification of grains ahead of separation is practically dispensable in any cases.
Can be installed into any small, medium-sized or large rice mills, thanks to its compact size,and is also operative most economically on comparatively smallest horsepower.
The Paddy Separator Model ASL is a compactly built "Double-Unit" Paddy Separator of amazingly high capacity and performance, consisting of two similar blocks of separating tables symmetrically oscillating sideways for a reliable separation of brown rice from paddy. Each oscillating block accmmodates ten pieces of separating tables which posses a rough surface, slightly slanting front wad and drivable by means of a special "SYMMETRIC-DRIVE " cam equipment that shakes two separating blocks symmetrically at the fixed constant speed.
SPECIFICATIONS:
Model
Capacity / hr,in Brown Rice
Req'd Power Motor
Revolutions
Main Pulley
Main Belting
Overall Dimensions
Export Packing
Short Grain
Long Grain
V-type
V
Height
Width
Length
N.W.
G.W.
Vol.
kg
kg
hp
rpm
mm
pcs.
mm
mm
mm
kg
kg
cft.
ASL-24
2700-3400
2600-3200
2
315-320
228 x B-1
B-type x 1
1785
1540
1990
840
1046
145
ASL-20
2500-3000
2000-2600
2
315-320
228-B-2
B-type x 2
1715
1540
1895
800
925
135