Machinery\One Pass Rice Mill
---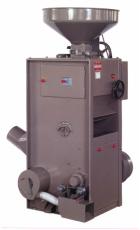 PS-80 PS-160
ADVANTAGE:
The machines are designated for use in a small rice mill or the farming household in general.
FEATURES:
The one-pass system that separates the chaffs from the rough rice during hulling and the bran from the brown rice during polishing in complete automation.
Highly efficient in hulling and polishing, the machines produce the best white and bright rice.
The precision design and the low-cost maintenance required make the machines economical units to serve the best purpose.
The machines are easy to operate and service, there are no need for special operators.
The machines may be driven by motors or diesel engines.
Optional equipment of one oscilating sieve assembled with TC-16 further separates broken rice and bran from white rice.
¡@
Model
Engine
Motor
Capacity Per Hour
Machine Dimensions
Export Shipment
in rough rice
L x W x H
N.W.
G.W.
VOL
PS-80
15 H.P
10 H.P
650~750 kg
686 x 725 x 1550 mm
295 kg
380 kg
48 CFT
PS-160
30 H.P
20 H.P
900~1000 kg
1010 x 1000 x 1630 mm
385 kg
465 kg
76 CFT