Machinery\Mini Testing Husker
---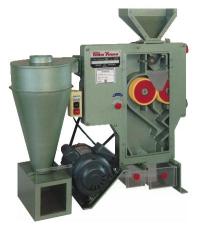 MTH-35A
FEATURES
Operation is simple and quiet. From the outside you can see the husking condition.
Husked rice, husk and immature paddy are separated automatically by the fan.
Light weight construction makes it easy for transportation.
Husking ratio is high and steady because the large rubber rolls are used.
SPECIFICATIONS:
Model
Capacity / hr
Power
Rubber
R.P.M
Machine Dimensions
Packing Dimensions
Gross
Total Packing
required
Roller size
Height
Length
Width
H
L
W
Weight
Volume cft
MTH-35A
40 kg
1/4 HP
1 1/2" x 4"
1900 , 1000
700
700
310
750
750
360
37 kg
7.3
CONSTRUCTION:
The sample of paddy is fed to the hopper (1) installed on the machine.
When the shutter (2) is opened, the sample flows into the machine.
The flowing rate can be adjusted by the flow adjusting handle (3).
Paddy is husked into brown rice when it passes through the clearance between two rubber rolls (11) which rotate at different speeds.
The clearance between the two rubber roll is adjusted by the adjusting handle (4).
Brown rice and immatural paddy are separately discharged to the receptacles (6) (7). Husks are sucked by the suction fan (12) and are collected into the receptacle (10) through the cyclone (13).