Machinery\ Grain Moisture Meter
Computer number type grain moisture meter
¡@

¡@
Mod: CD-3
FEATURES:
CD-3 New creation of radiation constitution : Do not need to smash grain, save time & labor cost, avoid grain lost.
Auto numeric display : The old type display the degree by kilowatt-hour meter. It is not easy to read the small characters. Our new products CD-3, auto numeric display by LCD.
High efficiently of examination : Only 10 minute from press button, you can read the actual degree immediately.
Small size, light weight and easy to keep.
Fully automatic induction.
It can test wide range of grain, such as corn, sorghum, soybean, coffee.
SPECIFICATIONS:
¡@
| | |
| --- | --- |
| Meter testing range | 10%~30% |
| Precision | ¡Ó0.5% |
| Measurement | 18 ¡Ñ 21.5 ¡Ñ 11 cm |
| Weight | 1.3kg |
| Battery | UM-3 1.5V¡Ñ4 |
¡@
¡@

Electronic Brain type grain moisture meter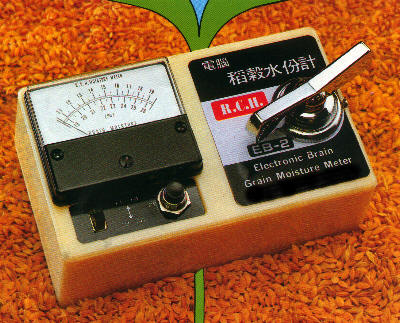 ¡@
Mod: EB-2
¡@
¡@
FEATURES:
Automatic temperature indicating.

No adjustment required : The computerized control of internal induction that moisture percentage is not affected by the strength of battery.

Accurate degree indication.

By computerising it overcomes the obstacle of irregular scale marks compare to moisture meter by the resistor type.

Addition of degree range.

Range increase through 11%~26% enables to test out.(Use in dryer ,this moisture meter is a best helper on controlling the drying time)
SPECIFICATIONS:
¡@
| | |
| --- | --- |
| Meter testing range | 11%~26% |
| Precision | ¡Ó0.5% (11~20%) |
| Measurement | 7 ¡Ñ 15 ¡Ñ 9 cm |
| Weight | 0.95kg |
| Battery | 22.5V¡Ñ2 |